Clinical Trials News
ARCS Conference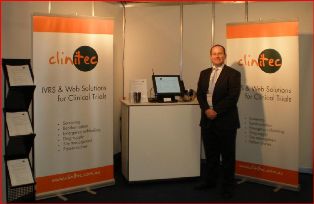 The Clinitec team exhibited at the ARCS Congress and met with representatives for clinical trials from pharmaceutical, biotech and research organisations. Alastair & Veronica ran demonstrations on Clinitec's randomisation, drug supply management and patient diaries. For more information on how Clinitec can help you with your next Phase II-III clinical trial please email us.
Run at the Sydney Convention and Exhibition Centre, 1,168 delegates attended an extensive range of scientific sessions focusing on the latest information and facts on what's happening in the therapeutic development arena.
For more information on ARCS or the Congress go to
www.arcs.com.au
---
Patient Recruitment & Retention in Clinical Trials
The Clinical Research ESC from ARCS Australia ran a session on patient recruitment and retention in clinical trials - widely recognised as a leading bottleneck in the new drug development pipeline. Speakers including Clinitec's Katie Viviers explored opportunities to assist or improve patient recruitment/retention including:
Considering site selection: Could regional sites or general practitioners be of assistance, and what do you need to consider when working with those sites?
Supporting site staff: How to get happy, engaged site staff that remain enthusiastic about recruitment.
Reaching out to patients: What are some ideas you might consider?
Use of technology to attract and maintain patients in studies.



---

Alastair Christian Appointed as Development Team Leader


Alastair has over 10 years software development experience in Australia, South Africa and the United Kingdom spanning the complete software development life cycle. Prior to joining Clinitec, Alastair was a Senior Analyst/Developer at Ezypay Pty Ltd where he was responsible for the technical design of new systems and the evaluation and adoption of new Microsoft technologies. Alastair is passionate about utilising the latest ideas and technology in the software development field to deliver high quality solutions for Clinitec.


---

Clinitec Nano


As a result of customer demand, Clinitec Australia has developed
Clinitec Nano, an Interactive Voice Response System (IVRS) that provides convenient, real-time, secure access to a centralised study database to help manage the randomisation process in line with study protocols.
This new alternative system is a cost effective solution for University and Hospital sponsored clinical trials with public funding, and in particular, trials conducted in Australia with less than 50 sites.

Problems associated with limited funding, data availability, inaccuracies and wasteful paper based trials are overcome with Clinitec Nano.

All Clinitec IVRS and IWRS services are fully validated and supported systems which have the backing of a highly experienced development team, equipped to handle your most complex and basic requirements.

Clinitec Nano can be rapidly deployed and is a highly cost effective alternative to paper based clinical trial data collection.

If you would like to discuss the features and benefits of this new system for your clinical trials in the near future, please contact us.



---

For archived news items please click here...

---


Please note that due to privacy and contractural obligations Clinitec is unable to provide details of sponsors and trials with which we are associated.